What is Active Transportation
Active Transportation Plan
Active transportation, as defined in the BC Active Transportation Design Guide, includes any form of human-powered transportation, including walking, cycling, or rolling using a skateboard, in-line skates, wheelchair or other wheel-based forms of human-powered transportation.
Council has endorsed a new Active Transportation Plan that makes recommendations for improvements to the City's infrastructure to help get our community more active and out of our vehicles. The plan outlines both short term and long term network improvements.
The City will be working to implement the plan as capital projects are undertaken.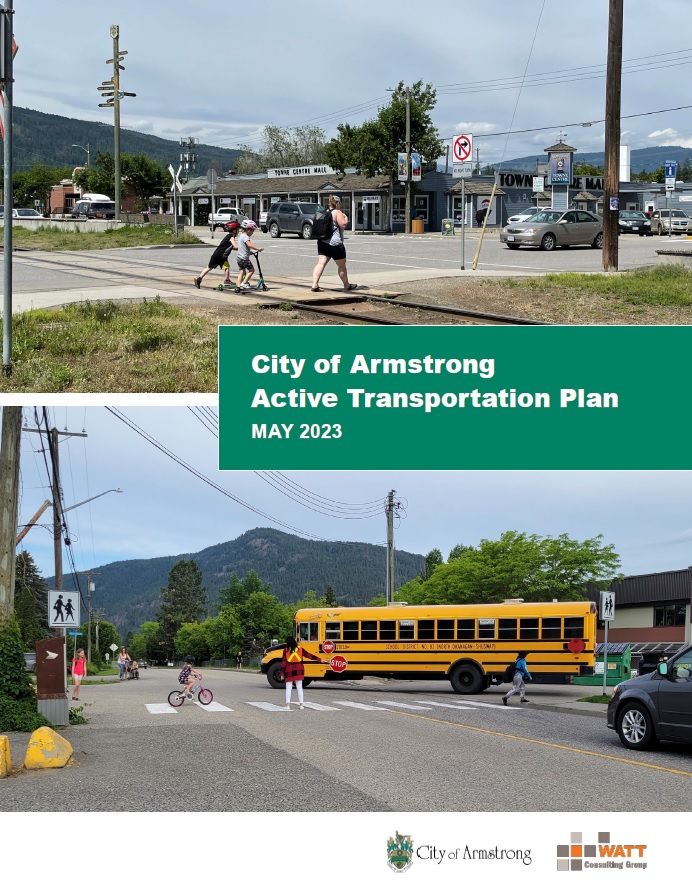 Planning Process Complete
On May 8, 2023 Council Endorsed the Active Transportation Plan.
Phase 1: Listening Stage (June 2022)
Targeted engagement through Stakeholder Interviews and Youth Mapping Activity to understand and confirm existing barriers to active transportation.
Phase 2: Echoing Back Stage (November 2022)
Public engagement with the wider Armstrong community at an Open House to present the key recommendations from the draft ATP for a deeper dive into the specific recommendations and what might need to be adjusted based on community preferences and desires.
Phase 3: Checking In (April 2022)
Review the updated draft plan with community through a survey and open house. Then the plan will be updated and presented to Council for consideration for adoption.
Phase 4: Implementation (Ongoing)
This phase will involve integrating the policies and infrastructure suggestions into the City's plans. It will begin in 2023 and carry forward over time.