What is Active Transportation?
Active transportation, as defined in the BC Active Transportation Design Guide, includes any form of human-powered transportation, including walking, cycling, or rolling using a skateboard, in-line skates, wheelchair or other wheel-based forms of human-powered transportation.
Get Involved
Hearing from a diverse cross section of the community is essential to creating a plan that accurately reflects the unique needs and priorities of Armstrong. Your input will help accurately reflect the unique needs and priorities of the community. Your input will inform an actionable ATP that provides a roadmap for the City's transportation priorities.
Round 1: Listening Stage (June 2022)
Targeted engagement through Stakeholder Interviews and Youth Mapping Activity to understand and confirm existing barriers to active transportation.
Round 2: Echoing Back Stage (November 2022)
Public engagement with the wider Armstrong community at an Open House to present the key recommendations from the draft ATP for a deeper dive into the specific recommendations and what might need to be adjusted based on community preferences and desires.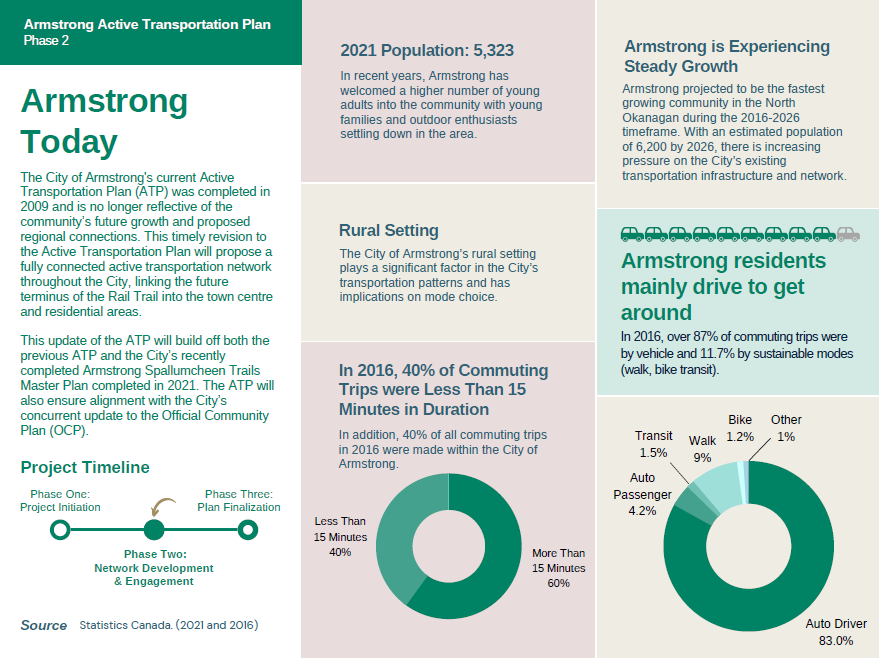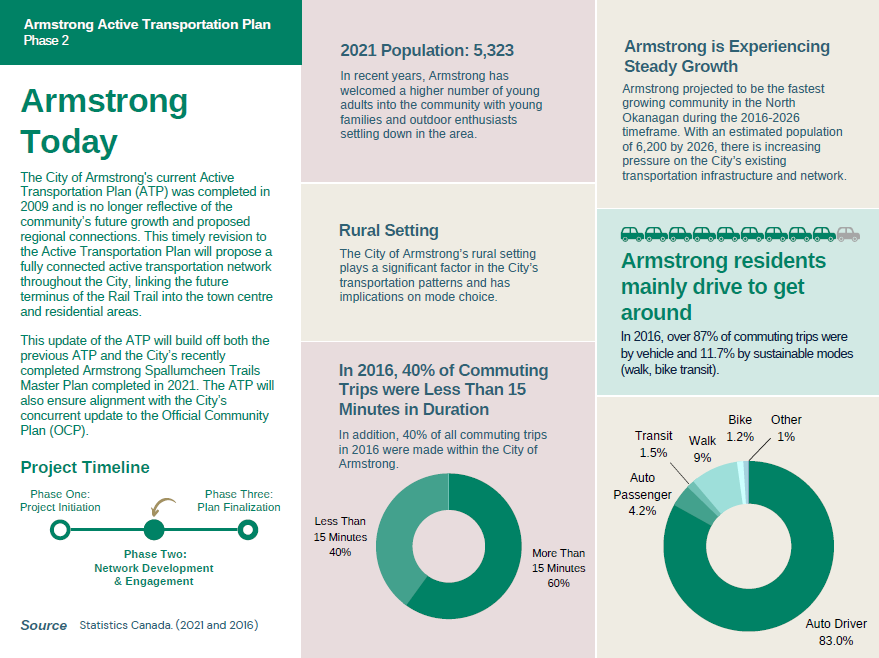 History
The City of Armstrong's current Active Transportation Plan (ATP) was completed in 2009 and is no longer reflective of the community's future growth and proposed regional connections. The City of Armstrong is updating their ATP to reflect the transportation advancements and expanded mode choices to envision an active transportation network that is safe and attractive for all Armstrong residents.
This timely revision to the Active Transportation Plan will propose a fully connected active transportation network throughout the City, linking the future terminus of the Rail Trail into the town centre and residential areas. There is great potential to increase the sustainable mode share in the community, facilitate tourism and economic growth, as well as advance the City's Green House Gas (GHG) reduction targets.
Read our Baseline Conditions Memo and Summary Boards to learn more about the issues and opportunities for Armstrong's active transportation network.