Your Mayor and City Council are proud to serve the City of Armstrong, and stand ready to support all residents, businesses, and visitors. With key responsibility for local services, city streets, and recreational facilities, Council is committed to ensuring prosperity and growth for all.
Elected in 2022, Armstrong residents are represented by 6 councillors and Mayor Joe Cramer.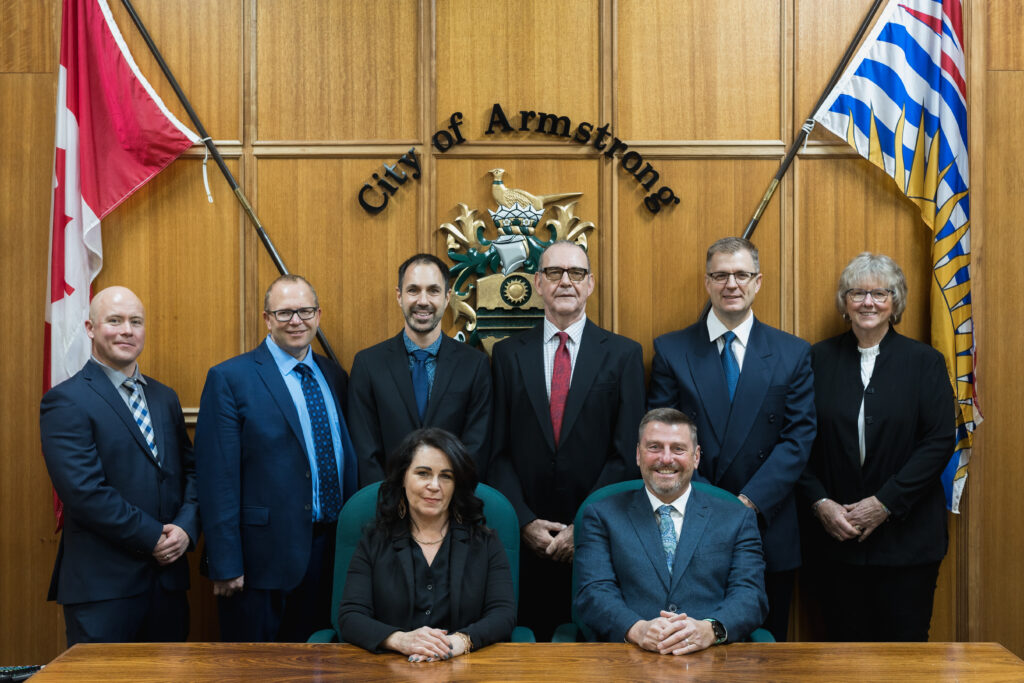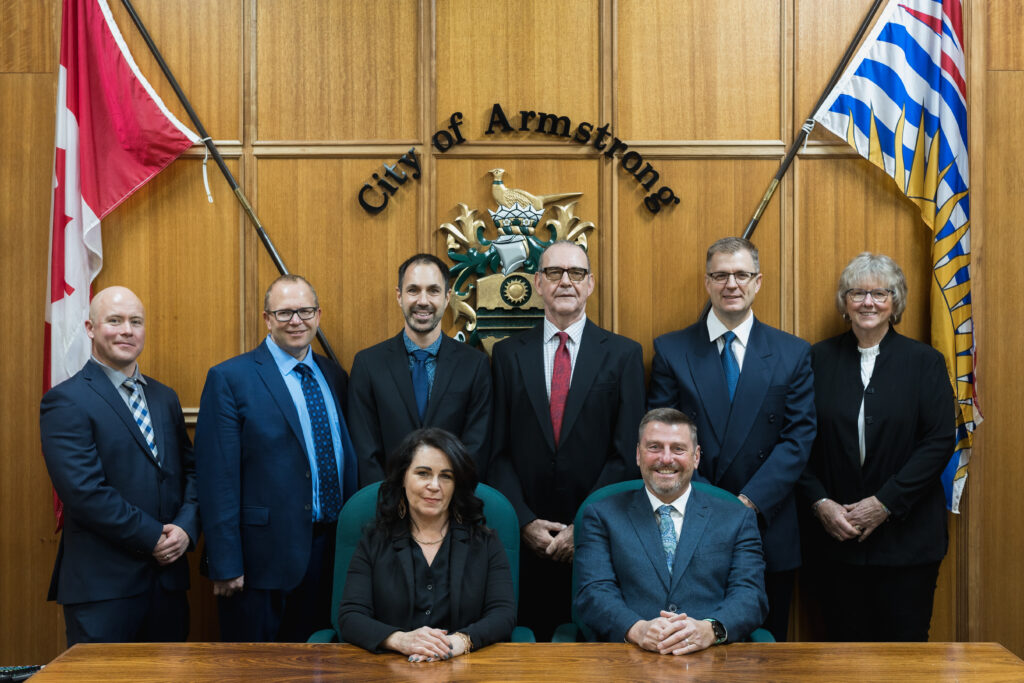 Council Meetings
All Regular Council Meetings are held on a Monday or Tuesday, in the event of statutory holidays falling on a Monday. Meetings start at 5:00 pm and take place at Armstrong City Hall, unless otherwise directed by City Council. Come back soon to view the updated meeting schedule for 2023.
At this time, all Council meetings are open to the public and held virtually through Zoom. If you are interested in attending a meeting via zoom or in person, please pre-register by emailing the City at: info@cityofarmstrong.bc.ca, as seating is limited.
Masks and Social Distancing is required while attending a meeting at City Hall.
Access for all Council, Committee and Commission Meeting schedules, Agendas and Minutes are available for viewing.
Agendas & Attendance
Council meeting agendas are prepared by staff on the Thursday prior to the upcoming meeting. Once approved, the agendas are available to the public the following day (Friday).
All correspondence brought before Council is approved by the Corporate Officer (CO) and the Chief Administrative Officer (CAO). Members of the public who wish to appear before Council will appear as a delegation.
As a general practice, delegates should contact administrative staff 14 days prior to the Council meeting of interest. As a requirement of delegation, complete this form which outlines the topic you would like to discuss, and email it to info@cityofarmstrong.bc.ca. For further information, contact the CAO or CO for more information.
Strategic Plan
The City of Armstrong's Strategic Plan for 2021 to 2025 builds on annual financial and operational plans produced by staff and directed by Council. This plan guides Council and staff and is used for assessing progress towards the strategic objectives on a quarterly basis. Further, this plan provides Council and corporate results to focus on during Council's term. Affordable Housing, Economic Development, Civic Facilities, Roads, Community Outreach, Water, Sewer, and Storm Water management are among the top objectives and priorities in the current strategic plan.
Housing affordability and availability are some of the key challenges facing North Okanagan Communities. In May 2019, the Regional District of the North Okanagan Board of Directors unanimously agreed to apply for funding from the Union of B.C. Municipalities to undertake the development of a Regional Housing Needs Assessment. This assessment would focus on a regional approach and acknowledge that no single community can address the full range of affordable housing needs. This collaborative approach has set the stage for a comprehensive review that will enable each community and the region to respond to the local housing crisis.